Bikes
All City Mr. Pink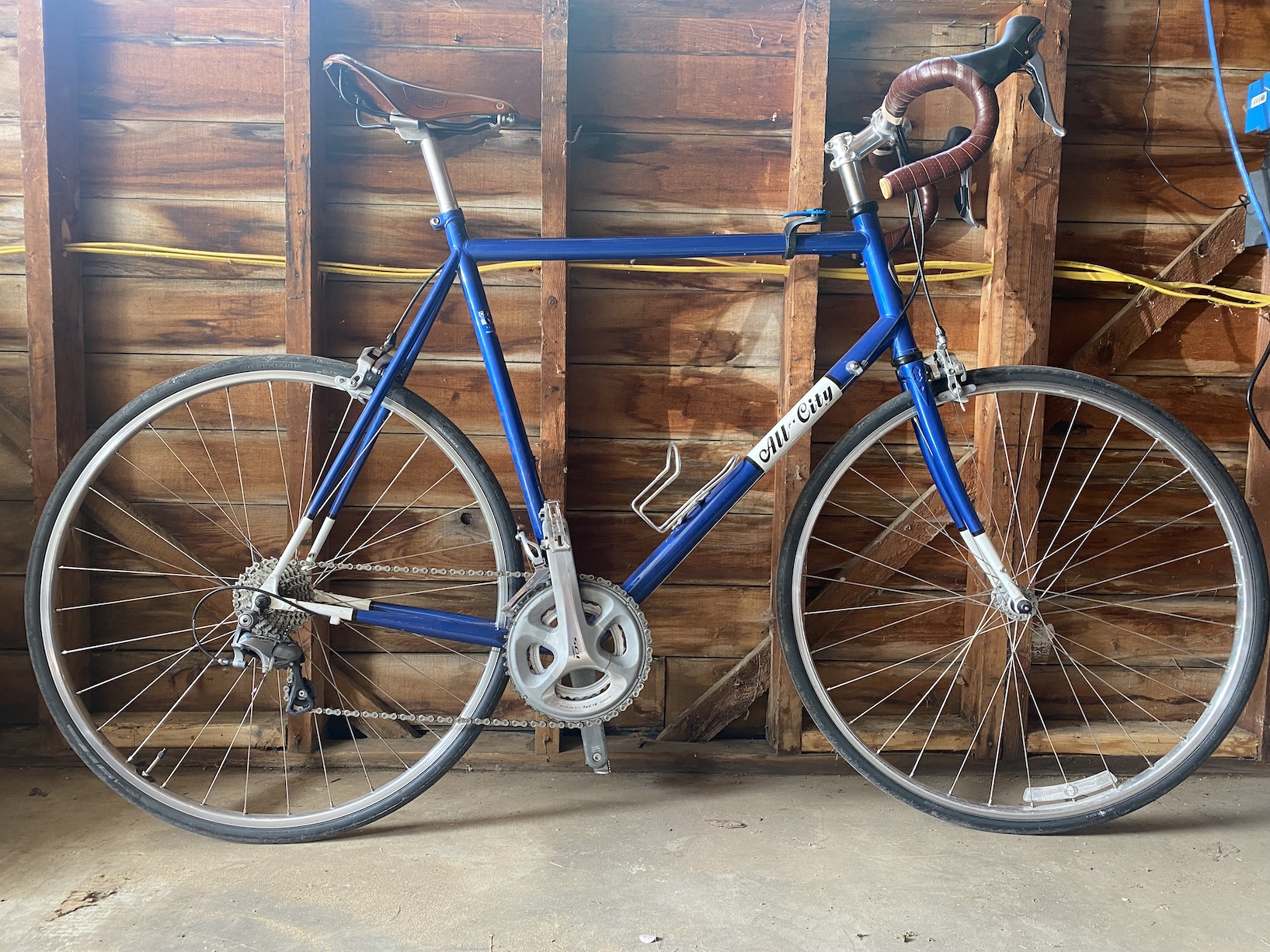 A steel-frame bicycle is what I think about when I think about bicycles. I wanted something that looked "classic" yet was very modern in components and feel. All City makes great frames, with the Mr. Pink being a now-discontinued racing frame. It's my understanding they make a similar frame, but with different steel. This Mr. Pink has Columbus Zona tubes, with interior routing for cabling. This makes it easier to maintain and keep cabling mishaps from happening. I've definitely caught my finger under a shifting cable more than once lifting up a bike, so it's nice not dealing with slapping it on the frame like a guitar. The geometry – how the frame is put together – is a big more aggressive than what I need for most cycling. Great for trips less than 12 miles. Anything longer, I want to use a carbon fiber frame with a more relaxed geometry. Outside of the frame, I have Shimano 105 components (5800). The grey components were a conscious choice to make the frame look more like an older bike. I'm impressed with the quality of the group set, recommending them to anyone who wants great components without spending Shimano Ultegra pricing. The wheels have H PLUS SON rims, with tires I'd have to look at what I put on. They work well for what I need.
This bike used to be my daily commuter when I lived in Santa Clara, California. Having a leather Brooks saddle made the ride much more comfortable. My first saddle was sadly stolen a week after getting it, so I ended up being much more careful about this bike going forward. My seat was worn down with selvedge denim, giving it a very polished look. I believe I used Obenauf LP to originally treat the leather seat, with a heat gun to help cure the look. I need to apply treatment again, since it's been many years. I recently had Brooks handlebar tape, with some gel grips hidden below the tape by the handlebar ends to help when I don't wear cycling gloves.
I run flip-flop pedals, where once side is "clipless" and the other side has a traditional flat platform. This lets me ride the bike for quick errands or going around a lake with a friend. These pedals also add to the classic look. I had clips for a while, but they'd scrape on the ground and get stuck in odd ways. I don't think I kept them around, but I don't remember getting rid of them either. Chuck Taylors and pour over coffee pair well with this setup.
Felt VR Advanced
I had come to a conclusion that my steel bike was holding me back in some way, which was true. The weight and geometry was not suited for those rides where I wanted to push myself. I'd come back home after a ride and feel like I was capping out regardless of how hard I pushed myself. The Felt frame is all carbon fiber, my first and only bike frame made with that material. The first real ride on it was like nothing else. I felt light. Fast. It moved where I wanted it to move.
The VR Advanced came with Ultegra components, which was a significant upgrade from the older 105 components I had been using. Lighter and easier to shift, I was impressed. The seat wasn't leather, but I don't think leather would make sense for the type of riding. Also, the weight between the steel rail and material would add up quickly.
This is my Lycra-wearing with sunglasses bike. You might find it unlocked outside a coffee shop while I duck in for espresso.